Save the Internet (and net neutrality)!!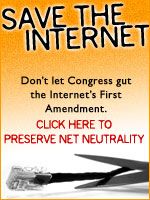 and from MoveOn.org:
"Today, you can use MySpace to help save the Internet.
As the House of Representatives prepares to vote this week on whether to protect Internet freedom, a funny new video about Net Neutrality was released online today by the SavetheInternet.com Coalition and PoliticsTV.com.
In it, Grammy-nominated musician Moby identifies how out-of-touch Washington, D.C. must be if Congress is even thinking about gutting Net Neutrality. He urges Americans to let their voices be heard by flooding Congress with phone calls.
Can you help raise awareness of the threat to Internet freedom by forwarding this humorous video to your MySpace friends today?
http://www.savetheinternet.com/moby
"The Internet is fighting back to save itself" is how Congressman Ed Markey (D-MA), a lead Internet freedom proponent, described our momentum at a recent Net Neutrality event with Moby.
While corporations like AT&T are spending millions in paid advertising, lobbying, and campaign contributions to convince Congress to give them control over what you see and do online, we are empowering regular Internet users to fight back by using the magic of the Internet. By forwarding this humorous video to others, you are indeed helping the Internet to save itself."
Comments {0}